All Campus Read for the 2018-2019 academic year at Rosemont College is Reclaiming Conversation: The Power of Talk in a Digital Age by Sherry Turkle.
We are pleased to announce that the First Year Connections Seminar and All Campus

Read

for the 2018-2019 academic year at Rosemont College is
Reclaiming Conversation: The Power of Talk in a Digital Age
by Sherry Turkle.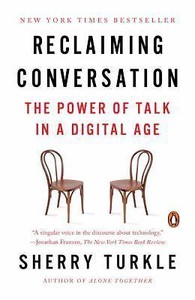 Sherry Turkle has spent the last 30 years studying the psychology of people's relationships with technology. A licensed clinical psychologist, she is the Abby Rockefeller Mauz
é
Professor of the Social Studies of Science and Technology at Massachusetts Institute of Technology and founder and director of the MIT Initiative on Technology and Self. Turkle is the author of five books and three edited collections, including a trilogy of three landmark studies on our relationship with digital culture:
The Second Self
,
Life on the Screen
, and most recently,
Alone Together
. A recipient of a Guggenheim and Rockefeller Humanities Fellowship and Fellow of the American Academy of Arts and Sciences, she is a featured media commentator and expert on culture and therapy, mobile technology, social networking, and sociable robotics.
"
Reclaiming Conversation
reminds

read

ers what's at stake when devices win over face-to-face conversation, and that it's not too late to conquer those bad habits." –
Seattle Times
Each year, a committee of Rosemont's faculty, staff, and students help to select a book as part of the
curriculum of our First Year Connections Seminar. This year we are thrilled to invite
all of
campus
to engage in active

read

ing and discussion of
Reclaiming Conversation
and to participate in campus wide events and initiatives to cultivate face to face conversation and inspire action. We are especially excited to share in this

read

ing as
a community of lifelong learners, dedicated to building connections with ourselves, with Rosemont College, and the world around us.
Some of the activities planned to promote campus-wide

read

ing of the FYCS book and to encourage more intentional conversation among members of the College community include:
·
Phone free tables in the Dining Hall
·
Phone free day in the Library
·
Letter writing station in the Library
·
Display of "letters of famous authors" in the Library
·
Tea and conversation to discuss the book.
In this book, Turkle explores key issues of communication and conversation, along with the perils and pitfalls or the lack of conversation that result from the increasing rise of technological advances in our world. Focusing especially on how these issues affect our relationships, creativity, and productivity, Turkle tackles the hard hitting questions regarding technology addiction and the negative consequences it has on both individual and society. Instead of suggesting we eliminate such technologies from our lives, Turkle instead suggests we find ways to make sure they do not destroy our ability to talk to and listen to one another. Through intensive qualitative and quantitative research, interviews, and other conversations, Turkle's book provides a powerful statement guaranteed to make us all evaluate and examine our own use of technology, and how that impacts our relationships with those around us.
We hope that you will enthusiastically engage in the

read

ing and discussion of this book and help promote it as the foundation for uniting us all in conversation throughout our campus and community!